Insider Secret Of Panchagavya Soap For Amazing Skin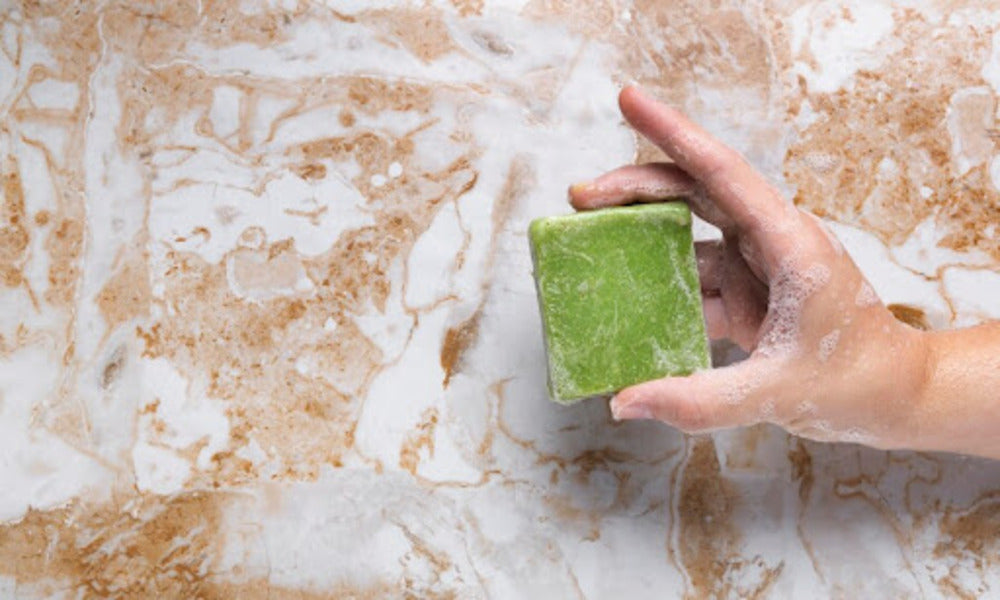 The hectic routine, pollution, and unorganized lifestyle schedule have a drastic impact on the overall texture and luminance of the skin. Opting for naturally derived products for skin care and hygiene routine can enable one to get glowing and nourished skin. Ayurvedic text speaks about Panchagavya as one of the best ingredients for skin case which is compared to Sanjeevani herb. If we can eat, skin can eat. Panchagavya is a feast for your skin. 
"Yatvagasthi gatam papam dehe tishthti mamke
prasnat panchgavyasya dahasagnirivendhnam"
Meaning:
From skin to bones, whatever sins (diseases) are in my body, are destroyed by panchagavya just as fire destroys the fuel.
The Miraculous Results Of Panchagavya Panchatattva Soap
Pancha gavya soap is a handcrafted soap which has 5 layer, each containing one of the 5 gavya namely cow dung, milk, ghee, yogurt and cow urine.  It smells aromatic, foams well and is an excellent soap for sensitive and dry skin.
The Cowpathy
Panchagavya Soap
(also known as Panchatattva soap) boasts exceptional medical properties. Thanks to the 5 gavyas that mother cows provide for mankind, namely Cow dung, Cow urine, A2 milk, Curd or yogurt and A2 ghee. These fine ingredients provide the most visible effect in just a few days. Moreover, the benefits of these Panchagavya can be traced back to the Vedic & ayurvedic scriptures. Regular usage of this soap can enable one to get all-glowing flawless skin from within. Panchatattva soap is free from sulphates, paraben, alcohol and other harsh chemicals. It is suitable for all skin types.  
The Benefits Of Cowpathy Panchagavya Soap (Panchatattva Soaps):
Panchatattva soap also referred to as panchagavya soap has numerous benefits such as,
1. Prevent Wrinkles And Fine Lines
Whether your skin is oily or dry, the Panchagavya soap can nourish your skin thoroughly and give the best possible results. The perfect blend of five major ingredients possesses high nutrients that our skin needs to repair and prevent further wear and tear.
2. Reduces Dry Or Flaky Skin And Swelling Or Inflammation
As you start using the soap you can notice a visible difference in the sheen of your skin. Your skin appears more radiant as panchagavya is known to heal damaged skin and inflammation.
3. Organically Moisturises & Hydrates Skin
Pollution and stressful life have a considerable effect on the appearance of the skin. The lack of hydration makes your skin appear dull & dry. The
Panchatattva Soap
moisturises your skin to the extent that you will no longer need to apply any body lotion even in winter. It also maintains the hydration level of your skin and gives you plump, healthier, and younger-looking skin.
4. Stabilizes Skin Proteins & Normal Flora (Friendly Bacteria) Of Ones Skin
Commercial soaps are filled with harmful chemicals that washes our skin proteins and friendly bacterial flora of the skin. Which results in allergies and skin infection. Panchatattva Panchagavya soap is the best option for you. This soap not only preserves your skin's normal bacterial flora from flushing out but also helps in synthesis of required skin protein. It can help you to solve the issues of skin allergies. This soap is ideal for people with sensitive and delicate skin types.
5. Updates And Makes Skin Ready To Fight All Seasons
Skin being the biggest organ needs to be kept healthy and updated, so it is ready to face extreme climate conditions. Regular use of this soap will make skin ready for all seasons. It will prevent moisture loss making it winter ready, will keep skin cool and balances pitta making it summer ready deep cleanses pores and helps flush out pollutants thus making skin ready for monsoon. aromatic oils present in Panchatatva soap makes it best rejuvenating and happening soap for romantic spring and contemplating autumn and It is also a herbal soap with the goodness of cow-derived substances: curd, cow dung, cow urine, milk and ghee to nourish your skin and relax your body year round. 
6. Germicidal, Antibacterial, Anti Fungal And Anti Toxic
The uniqueness of Panchatattva panchhagavya soap is that it is made from 5 gavyas of the Cows namely cow dung which has  antibacterial properties, cow urine has both antiseptic, antifungal and anti toxic properties, milk has lacto-bacilli which preserves normal bacteria but simultaneously  prevents harmful bacteria to colonise our skin, curd being acidic has antiseptic property and ghee prevents fungal growth. 
Conclusion
With the increasing popularity of organic and herbal soap, our Patented Panchagavya Soap is making its mark in the skincare world. The exceptional ingredients and the quality results make
Panchagavya Gift kit
an ideal gifting option for your loved ones. Panchagavya Soap is one of the most popular soap in hand made category. This soap is made from cow-derived substances like A2 ghee, A2 milk, curd, cow dung, and distilled cow urine. The Panchagavya Soap works like a skin nutrient and cleanses your skin from within. The soap purifies your skin and helps you connect to the compassion of mother cows.
The Panchagavya Soap from Cowpathy is made from the finest quality materials and gives you blooming fresh skin every day. To buy our Panchatattva Panchagavya soap, visit our website
www.cowpathy.com
now.